MEET THE WINNERS
Find out who will join Larry Klein to the album recordings in France
WHO IS GOING BEYOND
From 24 April to 4 May 2019 the Workshop and Album recordings of the first BEYOND MUSIC PROJECT will take place at the Studios La Fabrique in Southern France.
We are pleased to inform you that the BEYOND FOUNDATION has decided to increase the number of invited artists from 10 to 22 due to the top-class submissions.
Our Artistic Director and multiple Grammy winner Larry Klein has selected 10 compositions out of 110 submissions for the album recordings and named 22 musicians to participate.
We proudly present the 22 winners and the 10 selected compositions.
WINNING ARTISTS
WINNING COMPOSITIONS
110 submissions have reached us for the first BEYOND MUSIC PROJECT. The excellent quality of the compositions fills us with great joy. Artistic Director Larry Klein has selected the following 10 music pieces to be recorded in France and explains why.
"WATER":
Larry Klein: "This song immediately had an impact on me! Aside from the lyrics being so pertinent in this time and well-crafted, the syllabic correlation between melody and lyric is very elegant. The music of the song is well matched to the lyric, and Sheryl Gambo is a wonderful vocalist. Edward Glumov and Sandro Friedrich have done great work on the track as well, and I'm looking forward to working with all three and the great "house" band that we will have."
In this song, water is a metaphor for the emotional connection between people which can bridge cultures and cross borders. It is also a basic universal human need that we share. Water is a critical natural resource, and in many countries, the lack of it affects predominantly women, who often have to carry it over extremely long distances with great effort. But collecting water also brings women closer together in their shared mission. Featuring the beautiful and powerful voice of Sheryl Gambo.
MORE
LESS
PUBLIC AWARD WINNER
CREATIVITY AWARD WINNER
WINNER OF THE PROJECT
"MATUMEINI":
Larry Klein: "Another immediately alluring song, this track weds African elements as well as dialect with western harmonic elements seamlessly. Syssi Mananga has a beautiful character to her voice, and I am very excited to work with her as well as Brice Essomba, who wrote the music. A very sophisticated piece of music that doesn't lose it's simplicity and immediacy in spite of being quite a sophisticated piece of music."
Matumeini is a fusion of Brice's jazzy and Syssi's Afrofolk influences. It tells a common and heartfelt story of hope. Through tough times and circumstances of life, recieveing or giving love is the best way to prevail.
MORE
LESS
PUBLIC AWARD WINNER
CREATIVITY AWARD WINNER
WINNER OF THE PROJECT
"EGYPTIAN":
Larry Klein: "I believe that this was the first collaboration that greatly impressed me! Although it melds together a number of musical traditions from different cultures, the braiding together of them is very natural. I was impressed with the episodic through-composed sections that alternate with the improvisational sections, and though being a long track, this undulation between specific structure and improvisation is compelling. Jivan Jr is a master duduk player who I have had the pleasure to work with before on an album for Madeleine Peyroux, and I am very impressed with Sasha Shlain's keyboard skills and production ideas. The piece also incorporates the wonderful singing of Abdullah Alhussainy."
"SAAT A'RAHMAN":
Larry Klein: "This collaboration between Mor Karbasi and Moshe Elmakias is for me incredibly pertinent to the main thrust of the BEYOND FOUNDATION's work. The setting of a Yemenite wedding, and the framing of intra-family conflict that must be resolved is a wonderful metaphor for dialog between cultures, countries and religions. Taking subjects like love, conflict, jealousy, selfishness etc from the macro perspective down to the micro-perspective of a family can be a very powerful tool to illustrate the idea that as human beings we must transcend tribal behavior in order to find the wealth of beauty that is available in cross-cultural collaboration."
it is a Yemenite wedding sung that was sung to the much too young bride before her marriage. it is a painful dialogue between the young bride and her father, then between her and her mother. In her sadness of leaving her safe parents home to an unknown destiny to go to her future husbands home, she asks her mother for protection, and her father to please not listen to her at this hour of mercy and not give her away to a stranger. 'oh father? how could you give your daughter away? at the very same time that you bless me for good night'. I tried to give that bride (of many in many counties) a clear voice. as they voice was very often muted and ignored. the arrangement is more western classical and that is to emphasise the idea and the heavy feeling.
MORE
LESS
PUBLIC AWARD WINNER
CREATIVITY AWARD WINNER
WINNER OF THE PROJECT
"MA DING WA AVALE ONE":
Larry Klein: "This collaboration is illustrative of the power of joyous simplicity. It immediately connected with me. Danielle Eog Makedah has an amazingly inviting and appealing signature to her voice, and the work that John Lumpkin did on this song is very inspiring and appealing in it's simplicity in framing Danielle's voice."
MA DING WA AVALE ONE ( I LOVE YOU JUST THE WAY YOU ARE ) est une chanson composée par John Lumpkin II et chantée et écrite par Danielle Eog Makedah. cette chanson est l'ode d 'une mère à son enfant trisomique. Elle lui dit à quel point elle l'aime au delà de sa différence. Cette chanson prône l'amour inconditionnel et la tolérance. Cette chanson rappelle que chaque vie est précieuse.
MORE
LESS
PUBLIC AWARD WINNER
CREATIVITY AWARD WINNER
WINNER OF THE PROJECT
"EL CLAVEL DEL AIRE":
Larry Klein: "This collaboration between Mariana Baraj and Msafiri Zawose jumped out at me right away. The braiding together of Spanish, Swahili, and English feels very natural, as does the weaving together of stylistic elements from Africa, Argentina, as well as contemporary production ideas. It bridges these cultures effortlessly, and the singing is evocative and infectious."
It's a song that talks about freedom, about that free spirit that we need to blossom and fulfill. Inspired by the Carnation of the air, a plant that grows suspended in the air and that blooms anywhere, without soil.
MORE
LESS
PUBLIC AWARD WINNER
CREATIVITY AWARD WINNER
WINNER OF THE PROJECT
"UPON THE HORIZON":
Larry Klein: "This song hit me strongly right away. Simple and conversational language and Heather Bond's beautiful and seductive voice grabs one right away, and Sasha Shlain's keyboard work is inspired, fresh, spacious and most importantly not self consciously TRYING to do anything except to serve the lyric and to frame Heather's voice in a simple and evocative manner."
I sent an iPhone recording of a melody idea for Sasha, and he sent back a fully produced track. I was very impressed and it made my song idea come to life in a way I didn't expect. I think his production makes the song more vulnerable, more interesting. For me, this song is special because it reminds us that we're all going through something. What is important is to remind each other that regardless of where we come from, we are still looking up at the same sky. We are all connected, like the lyric says: "We are all dreamers underneath a sky that glows." *Note- Sasha, I am not sure what instruments you used in the track, if you want to select those.
MORE
LESS
PUBLIC AWARD WINNER
CREATIVITY AWARD WINNER
WINNER OF THE PROJECT
"YOUR HEART BEATS WITH MINE":
Larry Klein: "This collaboration has a beautiful simplicity, and a character that I felt would bring a nice dimension to the album. The voices of Elly Kellner and Heather Bond (Heather's presence on a few songs here is emblematic of the depth of her talent, and her ability to go in many different areas musically, shining bright in all of them). Elly's voice as a writer and vocalist had an immediate appeal to me as well. Two immensely talented women!"
I felt an instant connection when I began chatting with Elly. I sent her a melody idea and some chorus lyrics. She wrote the verses and added guitar to the track. This song is special because it is encouraging. It tells us that even though we're different, our hearts beat alike. When we accept those differences, we can reach our full potential, we can "rise and touch the stars."
MORE
LESS
PUBLIC AWARD WINNER
CREATIVITY AWARD WINNER
WINNER OF THE PROJECT
"YOU CHANGED ME":
Larry Klein: "Another example of the power of simplicity in music. Ingrid White's voice kills me. A beautiful song that also, for me, strikes right to the heart of what we are talking about on this project. Change, and even more, the ability to change and evolve is the most basic element of growth and the transcending of the afflictive parts of our make-up as human beings. In the end, after all is said and done, there is nothing left but the love that is given and received. Everything else fades and disintegrates. Not wanting to get "preachy", I do think that to communicate this idea, as the great Beatles did so eloquently, is the holy grail of songwriting, and these two talented women did it."
It's important to believe in love and sometimes we need a reminder of just how beautiful life is when we do love each other. This song tells us that no matter how the differences, or the distance between us, love holds us together. For this song, i sent a melody idea on a piano with mumbled words, that Ingrid then wrote the lyrics to. After she wrote lyrics for the first half, i completed the rest. When she sent me the track, i was so moved. Hearing her sing so beautifully in French brought tears to my eyes.Her voice is powerful yet tender, and allows me to get lost in the song while feeling loved and safe.
MORE
LESS
PUBLIC AWARD WINNER
CREATIVITY AWARD WINNER
WINNER OF THE PROJECT
"BETTER TOGETHER":
Larry Klein: "This song by Ingrid White and Max Keller is a gem. Again, it strikes right to the heart of what is so valuable about collaboration across all of the imaginary and illusive boundaries that we think divide us. What seems scary and intimidating about collaboration is in fact only a mirage that our minds get caught in. In fact, whether it is between two people, or two cultures, collaboration is inspiring, energizing and takes us beyond the boundaries that we set up for ourselves."
"Better Together" is a collaboration between two artists of completely different backgrounds, who connected both on an artistic, a musical and a human level. The song tries to break borders and merge musical styles such as EDM, Hip Hop and Pop. As well as this the song's message aims to address the breaking of borders on a human level, emphasizing a message of unity and crossing border together with lyrics such as "Together we can stand", "Together we are stronger" and "Together we can be better".
MORE
LESS
PUBLIC AWARD WINNER
CREATIVITY AWARD WINNER
WINNER OF THE PROJECT
OTHER INVITED ARTISTS:
Larry Klein: "In addition to the collaborators from submissions that I selected as the 10 pieces that we would record, I have invited three more musicians who were involved in other collaborations to join us in France. The reason for this is that they demonstrated distinctive and original musicality on instruments that I felt would be valuable to incorporate into the album overall, and that they would be very useful and compelling "wild card" musicians to have involved in the recording process. The names of these musicians are: Beshar Al Azzawi, Andreas Bernitt, Kane Mathis."
The BEYOND FOUNDATION also invited Indian singer Bijayashree Samal to join the workshop and album recordings for a few days. With her song "Diva (A Bird by Choice)" Bijayashree won second place at the PUBLIC AWARD with 9.924 votes.
ALBUM RECORDINGS IN FRANCE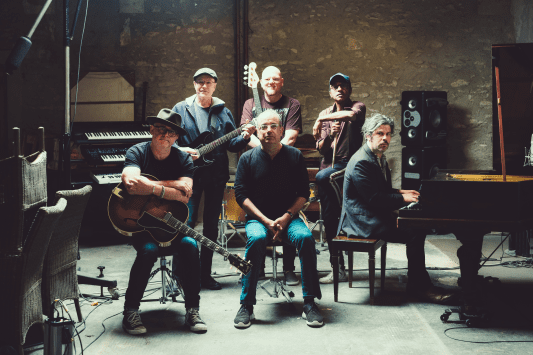 ACCOMPANYING HOUSE BAND:
Larry Klein: "We will have an amazing group of core "house band" musicians that will be involved in France including Dean Parks on guitars (Steely Dan, Michael Jackson, Stevie Wonder, Madonna, Elton John, Madeleine Peyroux etc), Dan Lutz on bass (Lizz Wright, Melody Gardot, Thomas Dybdahl, Jonathan Butler), Adrian Utley on guitars (Portishead), Clive Deamer on drums (Radiohead), Manu Katché on drums (Sting, Peter Gabriel, Jeff Beck, Dire Straits, Afro-Celt Sound System etc), and Ed Harcourt on keybords (Patti Smith, Marianne Faithfull).
I envision a great creative collective at the studio, with participants synergistically playing on pieces that they were not previously involved in, and musically interacting with our core musicians and other musicians, in a fluid give and take of collaboration, with the final product being a great album that will serve as a document of the efforts of everyone who submitted pieces."