MEET LARRY KLEIN
Get to know the Artistic Director of the Beyond Music Project Volume One
Larry about the project
Larry Klein is a multiple Grammy-winning record producer, musician, songwriter and composer. Among the artists that he has produced are Joni Mitchell, Herbie Hancock, Tracy Chapman, Walter Becker, Leonard Cohen, Norah Jones, Tina Turner, Rickie Lee Jones, Ana Moura, Madeleine Peyroux, Melody Gardot, Alison Krauss, Renee Fleming, Shawn Colvin, JD Souther, Lang Lang, and many others.
He has performed on albums by artists such as Bob Dylan, Randy Newman, Warren Zevon, Robbie Robertson, Don Henley, Peter Gabriel, Bryan Adams, Wayne Shorter, Freddie Hubbard, Lindsey Buckingham and many others.
He has worked on music for and/or written music for films such as the Martin Scorsese produced, Allison Anders directed "Grace Of My Heart", the Sean Penn directed film "Hurly Burly", David Mamet's film "Redbelt", the Coen Bros' "The Big Lebowski", "Love Actually", the J.J. Abrams television series "Felicity", for which he co-wrote the theme with Abrams, Scorsese's "Raging Bull" and many others.
His omnivorous and eclectic musical talent and taste has guided him towards music from all over the globe. He has produced two albums with the great Portuguese fado singer Ana Moura, he is just finishing the second album that he has produced and co-written with Norwegian singer-songwriter Thomas Dybdahl, he recently produced an album with the Chinese classical piano virtuoso Lang Lang, and he has worked with prominent artists such as French pop legend Eddy Mitchell, and the legendary Irish vocalist Mary Black. He produced a duet which featured Acadian/ Canadian musical legend Zachary Richard with Canadian pop-singer Celine Dion singing Robbie Robertson of The Band's song "Acadian Driftwood".
After producing the Grammy Album Of The Year-winning "River: The Joni Letters" for Herbie Hancock, he produced his next album "The Imagine Project" which featured artists from all over the globe including Pink, Seal, the great kora legend Toumani Diabete, The Chieftains, Derek Trucks and Susan Tedeschi, the Congolese band Konono No.1, Brazilian pop-singer Ceu, and many more.
He also worked on an album for German trumpet star Till Bronner and Universal Germany entitled "Rio", recorded in Rio De Janeiro, which featured tracks coupling British vocalist Annie Lennox with Brazilian legend Milton Nascimento, Klein's wife, the great singer and musician Luciana Souza and Nascimento, Brazilian pop singer Vanessa Da Mata, and others.
Among recent projects are an ambitious project for Universal France entitled "The Passion Of Charlie Parker" which is an album about Charlie Parker as an artistic archetype, and which features a group of the most exciting jazz virtuosos of this time including Donny McCaslin, Eric Harland, Craig Taborn, Ben Monder, Larry Grenadier and others, as well as vocalists Kurt Elling, Melody Gardot, Madeleine Peyroux, the incredible Canadian Soprano/ Conductor Barbara Hannigan and many others. He also has just completed a new Universal Canada album for Canadian recording artist Molly Johnson.
The four-time Grammy-winner received his third nomination for Producer Of The Year for the 2019 Grammys. Included in the nomination were records that he had made during 2018 with singles from Norwegian alt-pop aritst Thomas Dybdahl, the album "Anthem" from Madeleine Peyroux, the album "Junk" by new jazz artist Hailey Tuck, and Luciana Souza's album "The Book Of Longing". A new album on which Klein reimagines the songs of Jacques Brel with a number of top French artists singing the legendary singer-songwriter's work has just been released to glowing reviews, he has just finished work on a first album for Portuguese new Universal France alt-pop artist Neev to be released late spring 2019, and is working on an album with Blue Note U.S. artist Kandace Springs, his second with her, having produced her first album "Soul Eyes".
Larry has recently been actively involved in advocacy for music creators, traveling to Washington D.C. with the "GRAMMYs On The Hill" program, to meet with senators and congress members regarding addressing the many problems that confront artists and producers in being properly compensated for their work.
Website: https://www.larrykleinmusic.com
MEETING WITH LARRY KLEIN IN NEW YORK CITY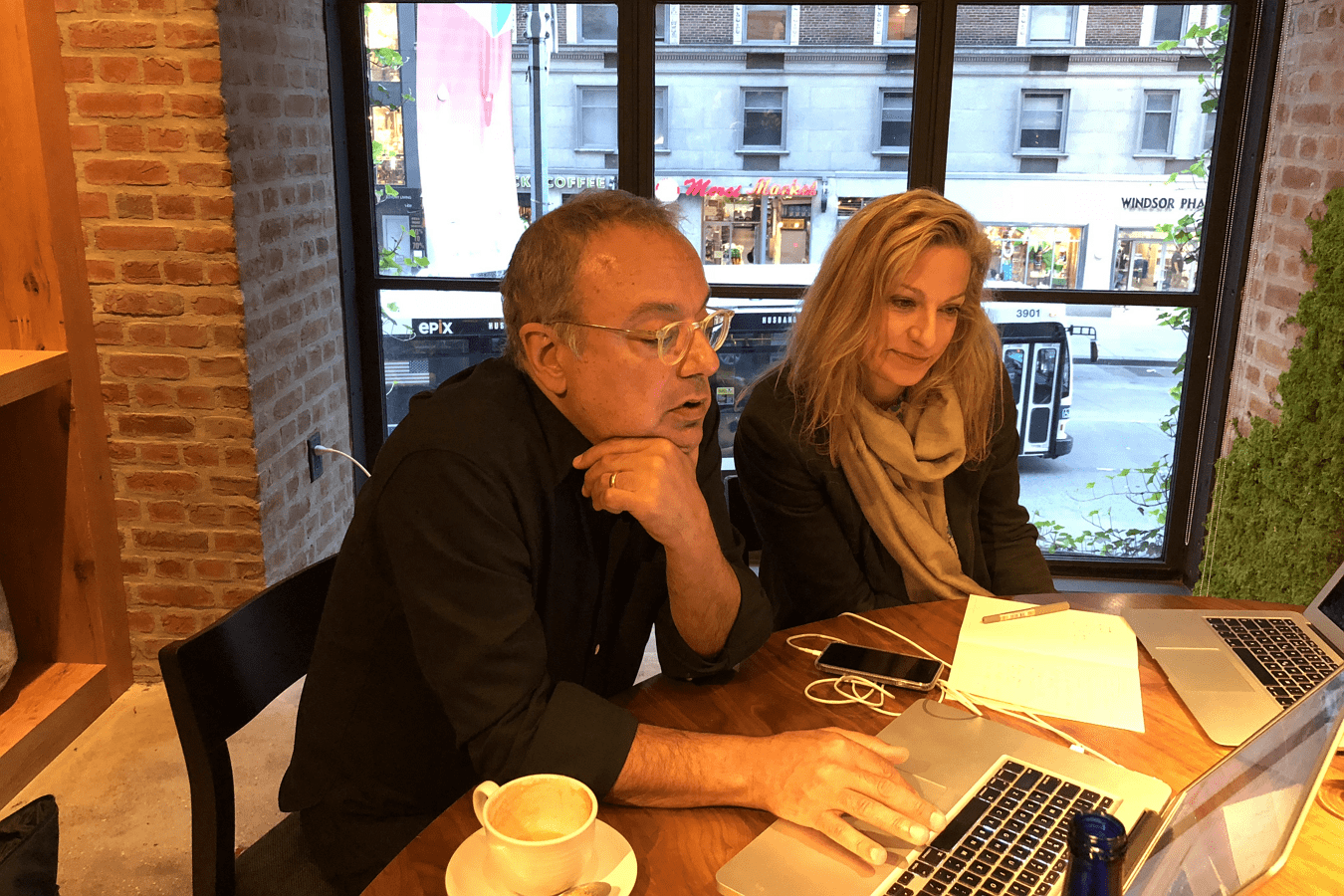 Artistic Director Larry Klein with CEO Konstanze Wiedemann